Its damn outright true that when you've got magic, you don't really need the net or a smartphone for that matter. But let's just say that in a parallel universe, Harry Potter and the gang get their hands on a smartphone and discover the wonders of the apps installed on a smartphone, what would it be like?! If that happened, then these are the ways I guessed they would benefit from it.
1.
No more waiting :
Remember how Harry and his friends had to wait for holidays and weekends to taste their favorite Butterbeer ( Well its simply the most delicious drink ever even though nobody has tried it yet!) , Magical sweets, the delicious Bertie Bott's Every Flavour Beans and chocolate frogs. They would travel in the coldest of the winters to the three broomsticks to get a sip of their favorite drink . If they had the power of smartphones they would able to order all these at the click of a button ! Viola , I am sure Hermoine would use the time saved in studying some more. :P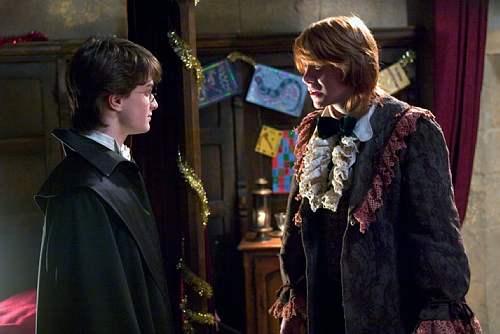 No 'OUCH' moments:
What happens when you have a surprise Yule Ball announcement and your mother has packed your sister's clothes for you ? Well you don't want to end up looking like Ron, would you? If Ron and Harry had access to smartphones they would simply login to Myntra/Flipkart via app and shop for the latest men's suits and end up looking dapper and catching the right girl's attention!
3.
Google maps :
SHOPPING:
Book a new Broom at a single click - Ask Harry or Ron or even Ginny what a broom means to them ! Harry will swear by a broom because that's what got him through the dragons task in ''the Goblet of Fire' plus not to forget Quidditch is impossible to play without a broom! And what happens if you have a Broom breakout or some nasty fat or sleazy student from Slytherin steals your broom? You order a new one from your smartphone that too on next day delivery/Same day delivery ! :D Plus online shopping portals like
Myntra
have app only offers that always have huge discounts running on their websites ;) No more skipping Quidditch ! And no doubts when you tell shopping from portals like Myntra which have a whopping 80% flat off on app sales , its like MAGIC for the Weasely family considering they have to spend cautiously because they haven't the income to buy new brooms without discounts :D!
And shopping for gifts would be so much easier for Ron and Dobby who always end up giving the most awkward gifts ! I am sure they would send so much love to Myntra app after Hermoine would kiss him when he got her a romantic gift ;)
5.
Apps
-